Effective & affordable affiliate marketing management services in the UK
Affiliate marketing is a booming online marketing discipline in which affiliates are paid a flat fee or structured commission for each conversion (whether that's a sale, a new sign-up or a completed application form) which was generated by the affiliate's marketing efforts.
Affiliate marketing naturally overlaps with other online marketing disciplines, because affiliate marketers often use regular online advertising methods. Those disciplines include organic search engine optimisation, pay per click marketing, e-mail marketing, and, to some degree, display advertising. On the other hand, affiliate marketers will sometimes use less traditional techniques, such as publishing product reviews, or service reviews, or supplying discount voucher codes.
Affiliate marketing is essentially using one website to drive traffic to another as a part of the online marketing mix. This kind of community-led approach is frequently overlooked by larger advertisers, so there is plenty of room for many small to medium businesses to succeed through affiliate marketing.
Simple Diagram of How Affiliate Marketing Operates: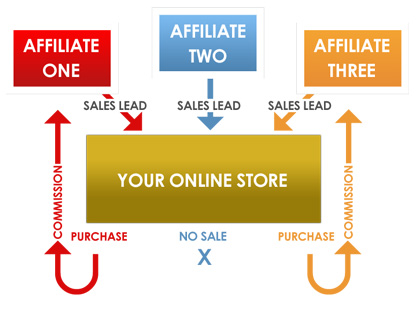 Thanks to the boost it provides for smaller companies, affiliate marketing will continue to play a significant role in any e-retailer's online marketing strategies. This has led to an increasing number of businesses approaching Sharp Darts to make use of our extensive experience in formulating and managing affiliate marketing campaigns for small, medium and large firms. Affiliate marketing can be prohibitively labour and training intensive when carried out in-house. This is why many businesses prefer to utilize the knowledge and experience of professional affiliate marketers, such as Sharp Darts.
Perhaps you're new to the world of affiliate marketing, or maybe you're looking to outsource your existing affiliate marketing activities? Whatever your needs, feel free to get in touch by phone, or simply fill out the contact form below.